Hi
I am Jelle from Belgium. I was in Shanghai for a part of my architectural practise from November 2008 till May 2009. China was a great experience for me; I visited some places in the East such as Beijing, Tianjin, Hangzhou and Zouzhuang and got familiar with the local culture. Besides working and traveling I wanted to join a (local) football team. Via a expat forum I got in contact with Matrix FC. The teamspirit is very nice: almost every Sunday players from every part of the city, most of them Chinese mixed with some foreigners, gather to play an exhausting 2-3-4 hours (depends on the weather) endurance game. To me the essence of their game is not to win, but to hook up with friends or meet new people. After the match we usually got to a local restaurant and talked about daily life in Shanghai, with a cold TsingTao.
I like it a lot.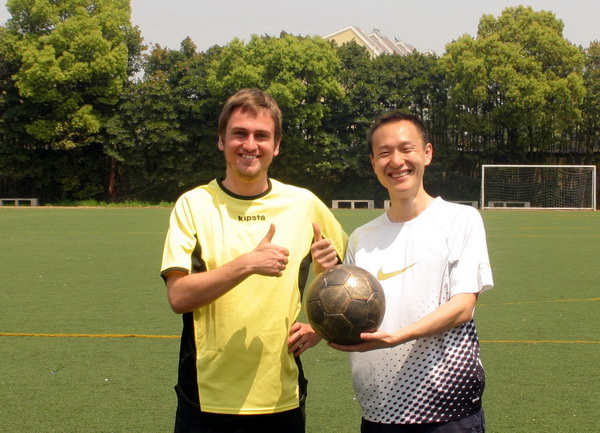 Nederlands:
Hallo
Ik ben Jelle van België. Ik was in Shanghai voor een deel van mijn stage als architect van november 2008 tot mei 2009. China was een geweldige ervaring voor me; ik heb verscheidene interessante plekken in het oosten bezocht zoals Beijing, Tianjin, Hangzhou en Zhouzhuang en ook wat van de lokale cultuur mogen proeven. Buiten werken en reizen wilde ik me ook bij een (lokale) voetbalploeg aansluiten. Via een expatforum kwam ik in contact met Matrix FC. De teamgeest is geweldig: bijna elke zondag komen komen er spelers van over de hele stad bij elkaar, vooral Chinezen gemengd met enkele buitenlanders. Er wordt dan een uithoudingswedstrijd van 2 tot 4 uur gespeeld, afhankelijk van het weer. Voor mij was de essentie van hun spel niet 'winnen', maar om vrienden samen te brengen en nieuwe mensen te leren kennen. Na de match kaartten we gewoonlijk nog even na in een lokaal restaurant met een frisse TsingTao.
Ik vond het zeer tof.

Espanol (con errores)
Hola
Soy Jelle de Belgica. Estuve en Shanghai por un parte de mis practicas arquitectural desde noviembre 2008 hasta mayo 2009. Por mi China fue una experiencia increible; visite algunos interesantes lugares en el este como Beijing, Tianjin, Hangzhou y Zhouzuang y ademas conoci con la cultura local. A fuera de trabajar y viajar querie juntarme con un equipo (local) de futbol. Via un foro de expats encontre Martrix FC. Su espirito es muy bueno: casi cade domingo jugadores de cada lado de la ciudad, lo mas Chinos mezclado con algunos extranjeros, encuantran por un partido de resistencia de 2-3-4 horas (depende del clima). Por mi la esencia no fue 'ganar', pero encontrarse con amigos y conoser nueva gente. Despues el partido fuimos a restorante para hablar y tomar un TsingTao.
Me gusto mucho.

Français
Salut
Je suis Jelle de Belgique. J'ai été à Shanghai pour une partie de mon stage de Novembre 2008 à Mai 2009. La Chine était une expérience incroyable; j'ai visité quelques places dans l'est du pays très intéressants comme Beijing, Tianjin, Hangzhou et Zhouzuang et la culture locale. En plus de travailler et voyager j'ai également cherché un (local) équipe de football. Via un forum des expats, j'ai encontré Matrix FC. L'esprit d'équipe est super: presque tous les dimanches des joueurs à partir de n'importe où dans la ville, Chinois avec quelgues étrangers, rencontrent pour une course d'endurance de 2-3-4 heurs (en fonction des Temps). Pour moi l' essence n'est pas 'gagner', mais encontrer avec des amis et connaître les autres. Après le match on boit une TsingTao dans un restaurant local.
C'était très cool.